Importation business is one of the most lucrative business you can start in Nigeria in 2020.
But wait! You must get it RIGHT from the very beginning, because Importation Biz has changed from what it used to be 4, 5 years ago.
Let me start by telling you why importation is big business in our country. You see, Nigeria has a large growing population of people who are mainly consumers. We all have a ready crave for imported product ranging from Fashion clothes to cars, food, building materials etc.
It's a known fact that we rarely produce secondary/finished goods in Nigeria. Instead, we produce raw materials, export it to foreign countries, and then import the finished goods at a premium price.
Is this behaviour good for our country? NO!
Can you make money from it? Definitely YES!
Now that you know that Nigerians import a lot of goods, that doesn't mean you should dive into. You first need to understand what Nigerians crave for and buy, and that's what you will learn in this article.
How To Start A Profitable Importation Business In 2020
I've been into the importation business since 2013 and I can tell you a lot of things has changed since then.
Before now, we could order products from China and sell it at 3X the cost price, thus making a huge profit. But now it is no MORE! The market is now saturated because everybody can now do it from the comfort of their phone.
So how do you start it profitably in 2020?

Just keep reading and don't be in a hurry because I will soon explain that in this article.

First, you need to understand that importation business is all about getting products from where they are of FREEMIUM to where they will worth PREMIUM.
What do I mean by this?
I mean this business is all about getting a product from where they're many and dead cheap to where they're scarce and expensive.
For example, China has so many phone manufacturers that they now compete to give the best smartphone at the cheapest price in other to attract customers. That means you can easily see a good phone for $100, get it delivered to Nigeria in 2 weeks, and sell it for $140.
That's $40 profit, right? Yes, but what I'm trying to explain is that you're getting those phones for cheap in China because it's readily available, and you selling it at a premium in Nigeria because it's scarce.
That's basically what importation business is all about. If you understand this, then you can do the business profitable.
But wait! keep reading, I still have a lot of tips that will enable you to start this business successfully in 2020.
Where To buy
There're 2 countries that Nigerians mostly import product from. These either China or the United State.
Let me start with China. I'm very sure that the majority of us started our importation business by purchasing fashion, phones, and other accessories from China 🤔.
It was profitable back then but now, the competition is so tense since everybody can now do it with an AliExpress account, mobile phone and little startup capital.
Mind you, I'm not saying that you can't make any more money importing from China. I have friends that still do it, but it's now been done in a new dimension.
Majority of them buy Semi-finished goods in large quantity from China and then become suppliers in Nigeria.
Examples of such goods are Doors, Cotton, Aluminum, Artificial grass etc that are been used to complete the building of houses, estate etc.
Although this new dimension is very profitable, it's very capital intensive because most factories in China have minimum order quantities of about 1000 pieces. You're also required to pay 30% down before manufacturing can start, and the remaining 70% once the manufacturing is completed.
If you're still akin on investing in China, you may go ahead if you have a huge amount of capital to disburse, otherwise, keep reading.
I will soon divulge the 2020 secret of profitable importation. How to start importing from the United State, with very small startup capital.
Secret: How to start importing from the US with small startup capital
The new trend of importation business in 2020 is buying a quality product from the US at dead cheap price and selling it in Nigeria for a profit. This you can do with as low as ₦50,000 startup capital.
Here you're buying a fairly used or nearly new product at a cheap price through off-sale or bidding.
I'm sure you're wondering what's off-sale and bidding, and how does it work?
It is very simple. You see, many people in the US have the disposable income to purchase the latest versions of any electronics or gadget they use, and when they do so, they usually dispose of the old ones out cheaply.
Some people even give it out for free! So our task here is to get these products cheaply and ship it down to Nigeria where we can sell it for more.
Where can you bid or buy off-sale products in the US?
You can get off-sale or bid from numerous websites but the major ones people use is eBay. Note that the competition on eBay is tense, and that's why I will give you 3 more website that's rarely known by other competitors, and you can buy off-sale products securely and cheaply.
How to buy the off-sale product on the platform?
Buying from eBay and the platform I will give you is easy. On eBay, you simply participate in a bid or place an order for a product. But the disadvantage or side effect of using eBay is that you don't get to see the product until after you've paid and the product is sent to you.
Buying on the 3 other websites that I will soon recommend to you is much safer and secure. You will need to buy the products through a trusted agent in the US that will help you verify the quality of the products before paying for it.
We call these agent pickers, and you will need to pay into the agent's Nigerian bank accounts within minutes of meeting the seller and sending you a screenshot of the products. Note that you will also add a fee to cover transportation to the seller and exporting to Nigeria.
After that, you relax for about 3 days and you receive your goods in Lagos, Nigeria.
How to sell your goods in Nigeria?
Selling shouldn't be a big deal if you're the type that knows how to use the internet and social media to sell.
I strongly believe that the profit is made in the buying and not in the selling. Therefore, you must choose an hot-selling product that people want, and can easily be sold.
What to buy? Have said it 👉 Hot-Selling Product
Electronics gadget: Nigerians want the latest gadget without having to buy it at the current price they sell the new. Here we talk of Iphone11, Samsung Galaxy S8 etc. Even laptops.
I will recommend more products soon.
Let me also give you another tip on how to buy.
I usually check the trending section of Jiji.ng, Olist.ng and Jumia for hot selling product and their prices.
Once I know the prices of this hot-selling products in Nigeria, I look for them on the 3 platforms I will soon recommend to you, I then start looking for a price that's far cheaper than what they sell in Nigeria.
For instance: If they sell a used iPhone 11 for ₦365,000(about $1000) in Nigeria, I can search for people that are selling theirs for $650 on the 3 platforms I will recommend to you. If I add $40 for transport and export fee to Nigeria, the total cost becomes $690 which is equivalent to ₦251,850.
I can then go over to Jiji or Olist or Facebook and sell it for ₦300,000, just ₦50,000 profit so I can sell it fast and it doesn't spend much time in my hand. That's another thing you need to put into consideration, you need to sell fast, so you shouldn't aim for a very huge profit margin, this, because we're in a trending market and trends, do change.
Where do you go from here?
You can decide to start the business with the little information have given you above, or better still, you can follow the ABC and Step by step guide that's in my eBook titled "How to start a profitable importation Business in 2020." Getting Quality and Hot-Selling products from the US at dead cheap price and selling it here in Nigeria at a huge profit margin.
How much is the eBook?
The eBook on how to start profitable importation business in Nigeria in 2020 normally goes for ₦10,000.
But if you act fast today , you will get my comprehensive ebook on importing for a token sum of ₦5,000 only.
NOTE: This price offer is only available for the next 3 days, and at exactly , it goes back to the original price of ₦10,000 only.
What will you get after paying the ₦5000 for the ebook?
1. A comprehensive guide on how to profitable start importation business in 2020, with a list of trusted platforms that you can buy hot-selling products cheaply and securely.
2. Contact details of trusted pickup agent that can help you with outsourcing, buying and delivering products.
3. WhatsApp question and answer session with me.
BONUS
A free Digital Marketing eBook that will teach you how to easily sell your products online using Facebook and Instagram Ads.
TESTIMONIALS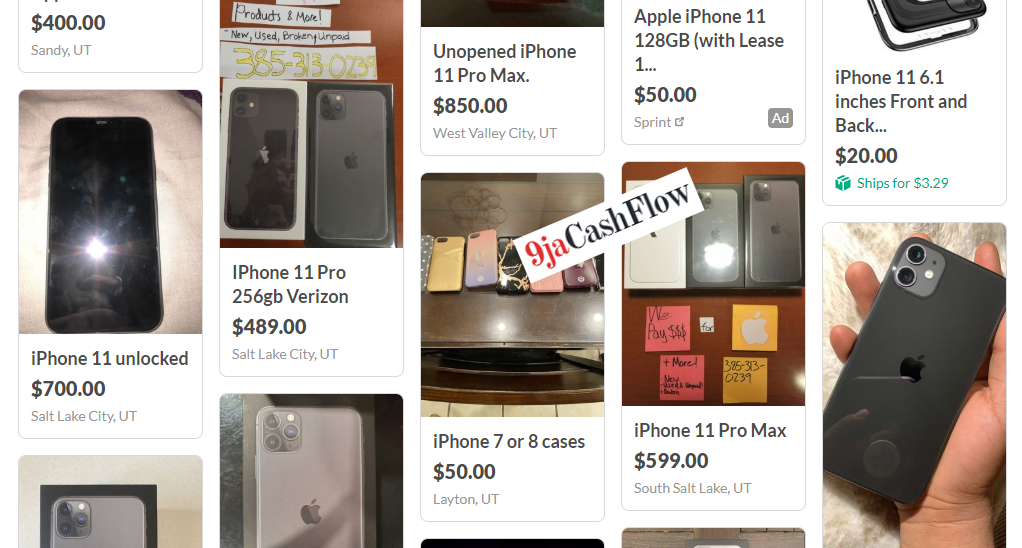 iPhone 11 plus on the website. Note: that you can still negotiate the price
The same iPhone 11 is sold for ₦400,000 plus in Nigeria.
Why Buy This Ebook On Profitable Importation Business In 2020
1. It enables you to create an additional source of income.
2. You can source for personal laptops and phones abroad at dead cheap price.
3. You can help your close friend or family member kick start this business.
What do you think?
Click the buy button below while this offer is still on and get the instant download link to the eBook.
HOW TO MAKE PAYMENT



Pay the ₦5,000.00 online with Paystack and get instant access to the eBook

OR
Better still, pay the ₦5,000 into our corporate bank account.
GTBank: 0523458523
9jaCashFlow Education & Training LTD
NOTE: After successful payment, send an email to [email protected] or call 0810 185 0909 providing your payment details. You will get the download links sent to you within 5 minutes of confirming your payment.
GUESS WHAT
You will get 100% Money Back Guarantee within 7 days if you put the tricks to use and you didn't get the required result.
No hassle, you don't even need to tell us the reason. Just request for your money and you will get a refund instantly alongside an apology for wasting your precious time.
PS: You won't always see this offer, so grab it while it lasts. This same training on how to start profitable importation business is sold for ₦15,000 on other platforms, that's ₦10,000 more than my price.
PPS: You have to learn more to earn more. Don't have yourself to blame if you never see this benevolent offer again.
PPPS: You're just a step from getting this eBook and changing your 2020 for GOOD!
It's left to you to create your Goodluck!
Click here to pay for the ₦5000 via Paystack and get the download link instantly.