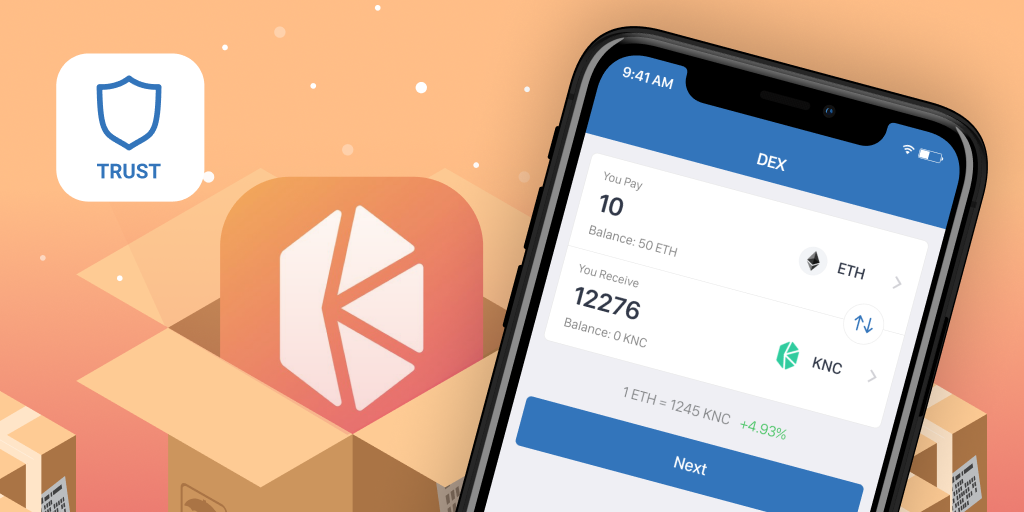 Trust Wallet has become one of the most used wallets in the crypto space, especially when you talk of decentralization. Due to this feature, it shares one of the most important characteristics of cryptocurrency, it has gained the TRUST of millions of users worldwide. Many cryptocurrency assets now try their best to be listed on the wallet, so as to tap into their user base and other opportunities.
As interesting as it takes to talk about this wallet, it is an incredible tool most crypto users ignore due to the fact that they lack the idea of using this tool to its fullest potential. And did I also mention that this wallet has its own native Token (Trustwallet Token – TWT).
Now let's dive into the tutorial;
Things you can do with Trust Wallet;
Add multiple tokens
Send and receive tokens
Staking and swapping tokens
Store tokens and collectibles (NFTs)
Buy and sell tokens (Trading on DEX)
Buy token from a Broker
Get a notification on the price of some coins – BTC, ETH, etc.
Convert the price of an asset from one currency to the other
Using Dapps
WalletConnect to interact with DEX.
WHAT IS DEX?
DEX simply means Decentralized Exchange, it has no central authority ruling or governing it affairs, no restrictions. Unlike CEX which are Centralized Exchange, where everything is owned, controlled and managed by a central authority like an individual or group of persons.
Now let's get to the main part of this post.
HOW TO TRADE ON TRUST WALLET (DEX)
Firstly, you need to have Trust Wallet installed on your device, then you proceed with creating a multi-coin wallet with it.
Secondly, you need to have some BNB in your wallet – you can buy from Binance then transfer to your wallet (BNB Bep2), because to place trades you will be required to pay little network fee as it common with all dex.
Also, note that the DEX you are trading with is Binance DEX incorporated into Trust Wallet for easy access and a smooth trading experience.
This image shows the interface of the DEX and the numbered parts are explained below.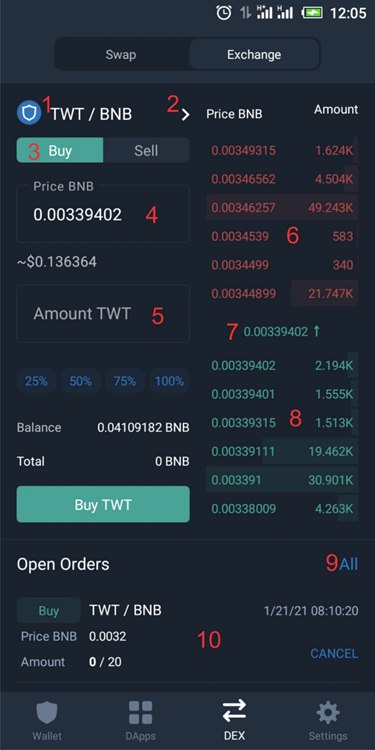 Numbered Parts;
Name of crypto pair you are trading on
To see other crypto pairs you can trade
Buy and Sell Tab
Set price box
Set amount box
Ask – placed sell orders
Market Price
Bid – placed buy orders
Order History
Open Order for Buy/Sell.
So, finally, I hope with this brief analogy we are able to place a trade successfully on Trust Wallet DEX.
Feel free to drop comments and questions as they would be answered promptly.
Credit:
Micheal Olatunde
+234 814 251 3384
Here is a link to one of his crypto guides: https://selar.co/hyka