The importation business is a very lucrative business. It's by far one of the few businesses you can do in Nigeria and earn over 100% profit.  So how do you start this business? It's quite easy. In this article, I will give you a step-by-step guide on how to start the business of importing gadgets from the United State and selling it with a huge profit in Nigeria.
How To Start Importing Phones And Laptops From USA
The basic requirement that you need for importing quality gadget at a dead cheap price is a smartphone or laptop, a platform to buy the product, and a platform to sell the product.  I will cover all this in detail later in the article. Money is another requirement, but I won't go into that since you can start this business with as little as ₦50,000.
1. A Smartphone:
Any up-to-date android device can be used to run this business. Speed is of importance here, so getting a very fast smartphone or laptop can give you a hedge over others. Now that you got a good smartphone and you're ready to start buying, you will need to visit websites like Jumia & Jiji to know what is trending. Doing this will give you a hint of what people are buying and what they're not buying.
2. A Platform To Buy The Product
Next is a platform to purchase your products. You see, buying quality gadgets in the US at a dead-cheap price is mostly done through bidding or off-sale. Bidding simply means you're participating in an auction, where people compete to buy a product by giving a higher offer than the previous offer. On the other hand, off-sale means people decide to sell their old-model products at a very huge discount simply because they've gotten a newer model, and the old one is no longer needed.
As a beginner, I will suggest you start with off-sale because it's much easier and less expensive. And the website I will recommend you start with is Offerup.com. Wait! Before you rush to the website you need to understand two things:
Offerup is a US platform where people dispose of their products to other people in their community, and you shouldn't go there and tell them you're a Nigerian.
Since you're not in the US, you will need someone over there to pick up those goods, How To Start Importing Phones And Laptops From USAnd getting trusted agents to do that for you is easy but it will cost you around $20(₦7,200).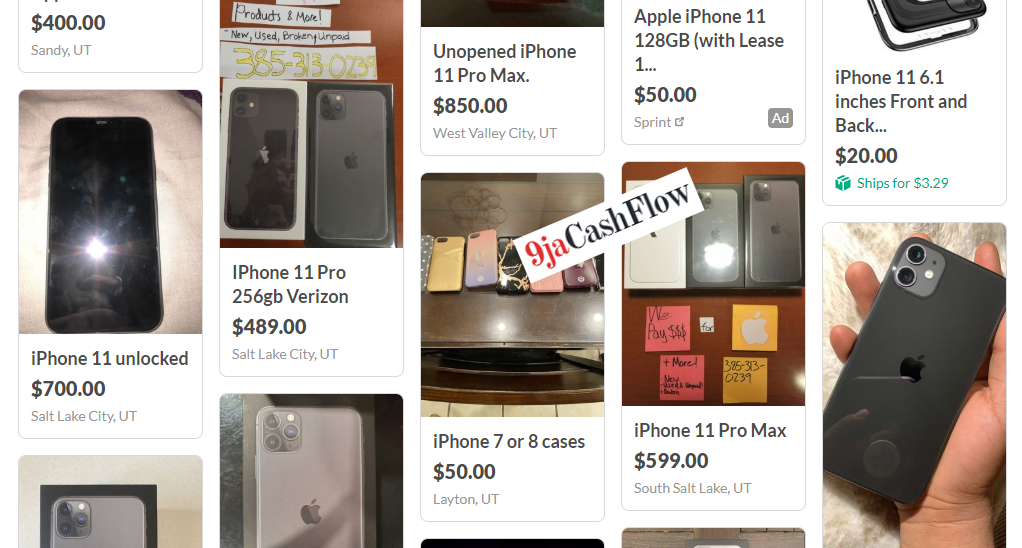 So how do you buy your products as a Nigerian, without any trouble?
First, you need to download Puffin Browser from your Google Play store on mobile
Next, you visit Offerup and log in with your Facebook account
Then you off your location on Android(Note that you're required to off your location so you can see product listings from US cities. If you don't off your location you will most likely see listings from Lagos, Nigeria).
After which you edit your profile with a single name like Peter or Richard, then you use an interesting image as your profile picture. I used a Lamborghini car as my image.
You can now search for products to buy. I advise you to use LA  as your search location because that's one of the places where I have a reliable agent to pick it up on your behalf.
Once you find a deal, try to negotiate with the seller. Also, ask if the phone or laptop doesn't have any fault because spending money on repairs might make it pretty expensive to sell. If it requires you to unlock the gadget, you need to figure out how much unlock costs in Nigeria.
After you've agreed to the price, you tell the seller to drop the address of a Starbucks or Cafe near him, and his/her phone number.
You then contact the pickup agent. You will need to send the Naira equivalent of the product to the pickup agent using ₦370/$. You will also add a transport fee in LA which is about $20 to drive and pick up the Gadget.
Once the pickup agent verifies that the product is in good condition, he will pick it up and send you the pictures.
If you want to deliver it to Lagos with 2 days of express shipping, it will cost you $15 and $45 for the phone and laptop respectively. You can also use the standard 7 days express shipping which costs about $20. After being shipped, you will also get a password to pick it up in Lagos.
Once the goods get to Lagos, you will pick them up at the Ikeja office of the shipping agent. If you're not in Lagos, you can always send someone to pick it up for you. Note that you will need to give them the password to collect it.
2. A Platform To Sell The Product
Now that you have gotten the products delivered to you, the next line of action is to sell it quickly. Having good knowledge of online and offline marketing would help you dispose of it quickly and go get another one. I advise you to leverage Jiji, Facebook, Olist and your Whatsapp contact to sell it fast.
In Conclusion
This business is still pretty much new and you don't have any excuse not to start it. The only thing you need is a smartphone and very little start-up capital. I have personally used this method to buy a Laptop for myself, friends, and Colleagues. If you still need further help on understanding the business very well, or you need the contact of a verified agent, you can call or WhatsApp me on +234 810 185 0909.