Why Trust Must Be Earned And Not Just Given
December 3, 2022
2023-02-09 23:44
Why Trust Must Be Earned And Not Just Given
Why Trust Must Be Earned And Not Just Given
There are a whole lot of articles online on how trust is earned and not given.
We also have a lot on why trust is also given and not earned.
While I wouldn't want to argue that fact, I just want to give you a real-life scenario of why you shouldn't just give your trust to people anyhow without them earning it first, especially if they're total strangers.
I do come from a very kind family. My grandparents, and parents – especially my late dad – are very kind.
They can go to any length to support others and ensure they're doing well even though such people never reciprocate.
I know you're thinking it's good to give without any expectation.
Yes, you're right. However, when such giving requires you to trust complete strangers on very cogent and life-changing matters, you must be very careful to not give your trust all out at once. If you do, it may come back to hurt you.
Like my dad, I'm also very kind.
Most of my resources I give out for free to other people to use and grow.
But recently, I have identified where I have been making a major mistake and I will be sharing it in this article.
The fact is that you must learn how to trust, help, assist, support, and give to people gradually.
And if they show appreciation, competence, fruitfulness, and gratitude then and only then should you give them more opportunity.
Another way to put this is that helping and giving out your trust to people should be a step-by-step process like climbing a ladder.
If you ignore this golden nugget, you may find yourself in a very ludicrous situation.
Here is my sober experience.
I saw a well-completed building inside Bodija Estate, Ibadan sometime in late November last year. I immediately asked for the builder who constructed the building.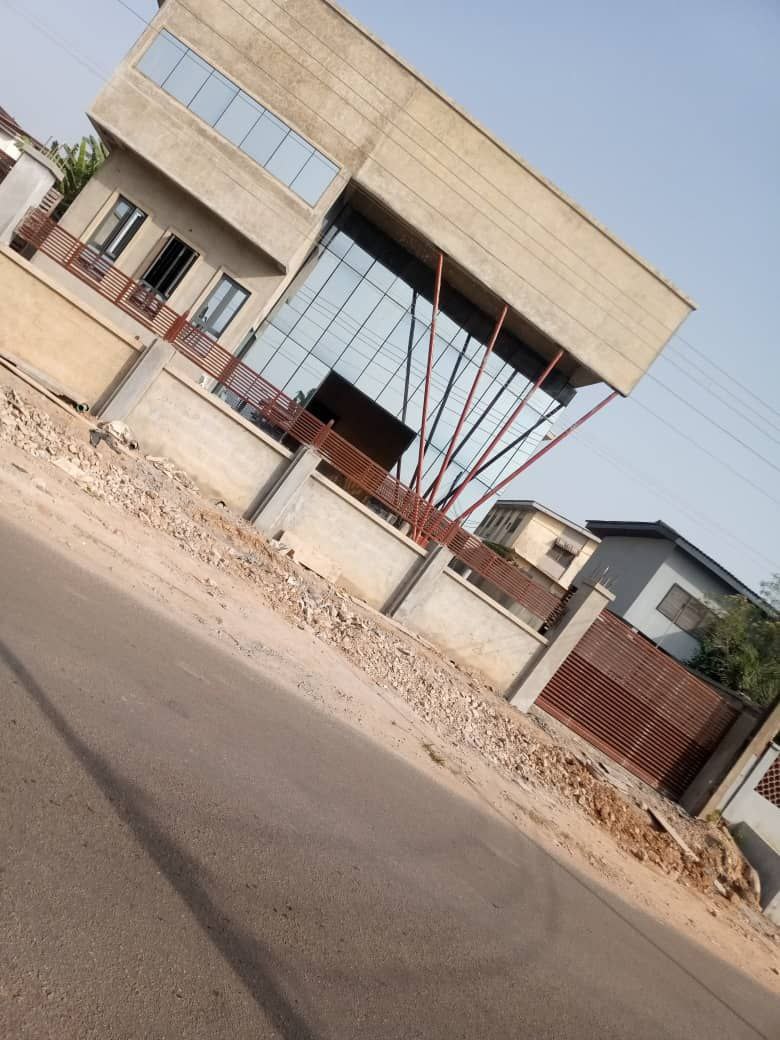 I got his contact and as soon as he finished that particular building, I message him to come and continue my own building and I entrusted him with everything about my construction. Little do I know that was a great mistake.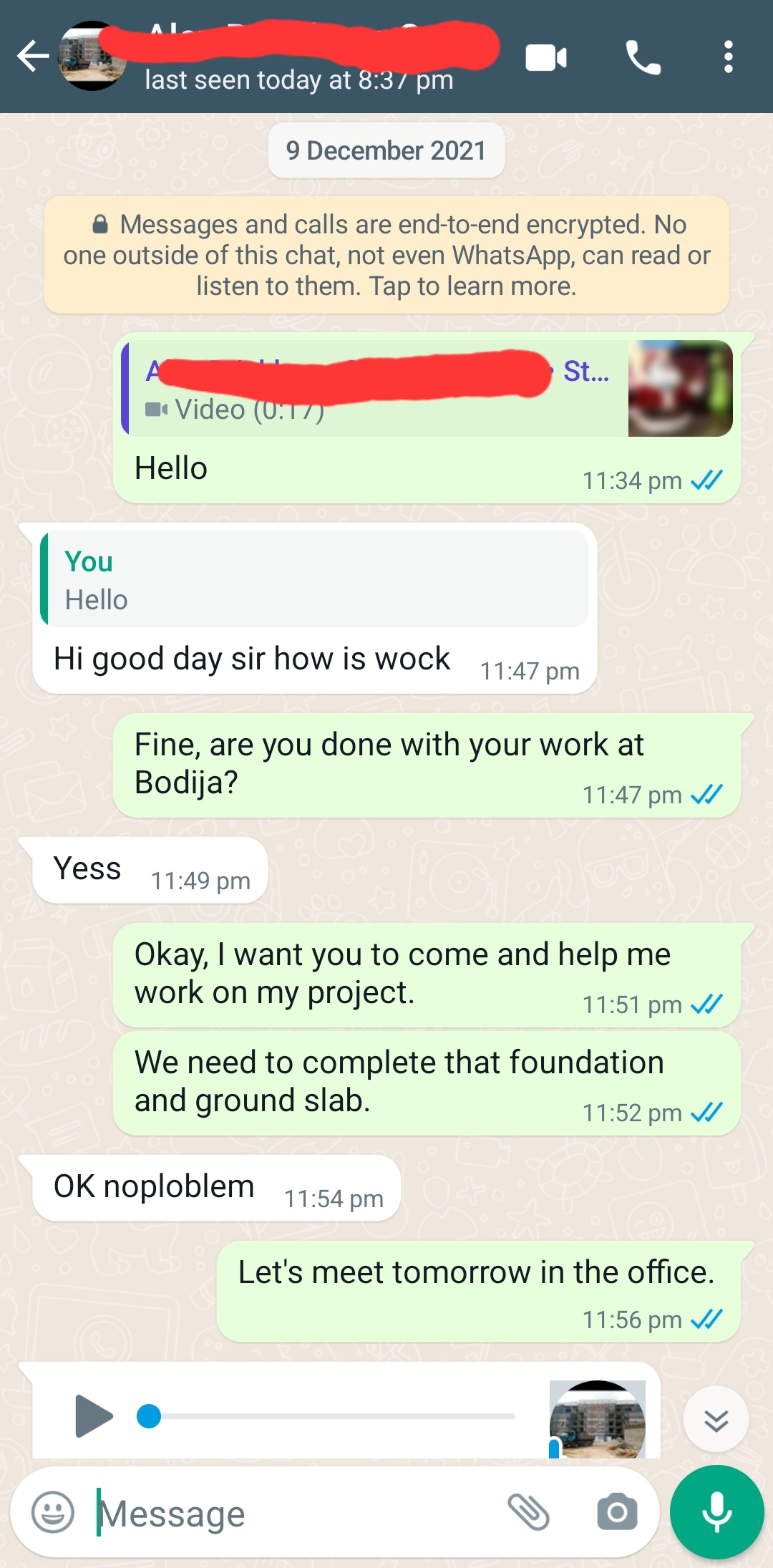 Guess what?
After he received over ₦300,000 from me. An amount to cover workmanship for the total block wall on the ground floor, the job halted as we reached the lintel level due to unknown reasons – which I later found to be supernatural.
I also lost interest in the project and stopped going there from April, until today December 3rd, 2022.
That's a whole 6 months that I didn't go to the construction site.
Why did I suddenly go to the site?
Although I have always wanted to go to the site for some time. Something will just happen and my mind will skip it, and I will be unable to go.
So recently, the builder I handed over the site to called me that the community challenged him when they saw a juju inside my property.
He then came to my office and told me he did the juju there to just scare people away from stealing reinforcement and other materials on my site.
Later that evening, the community called me and said they wanted to see me.
I told them we can meet on Saturday 3rd December 2022 by 12 pm.
I got there and after some conversation with the community head and chief security officer(CSO), they said the builder told them he uses the juju to protect himself in this building work his doing so he would not fall down.
While this might be genuine reasons.
I immediately got annoyed that the builder would tell me something else and tell the community another thing.
It shows something is fishy, and there's something he's not telling me.
Later on, the CSO took me to where the builder kept the juju on my property and I was perplexed by what I saw.
I saw a burnt full-sized chicken tied to broken spade/iron and 2 bunch of oil palms.
Here is it below👇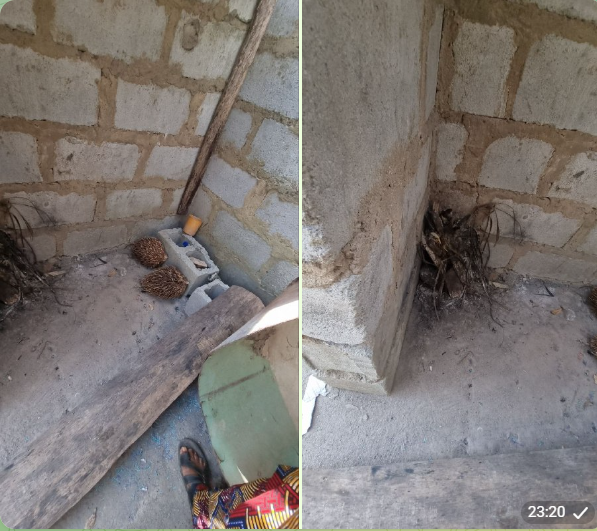 It was so shocking to me and the only thing I could think of is that; this builder guy has a devil inside my property that he normally pour palm oil on.
And he has the gut to do it without my permission.
Anyways, the community CSO said the possibility here is that the builder is doing something fetish that could have repercussions on
My property and I – no wonder work slowed down.
The community – I hope he didn't use anyone in the community.
The builder himself. He may be using that juju to gain ground to do his work and get clients to pay him very well and keep giving him construction jobs.
It quickly crosses my mind that he recently told me that the woman that gave him work in Bodija, Ibadan has been praising him while the same woman complains about the work other engineers are building for her on other sites.
The more I thought deeper into the past encounter have had with this builder guy, the more I keep connecting the dot backward with our previous conversations.
I could remember vividly that I saw chicken feathers around my property in April before I stopped going to the site. And when I asked him and the baba I kept on the site where is the source of the feather.
They said they bought a chicken and a cat ate it overnight and they poured the wings inside the block. Looking back, I made the mistake of not taking this matter up. I thought it was a minor thing and I ignored it.
I wasn't really paying much attention to details.
And some months into that period a boss of mine even told me to keep paying attention to details consistently.
Anyways, let's continue with the matter at hand.
The community said if they would leave the builder to keep working for me that I will sign an agreement that whatever the man does I will be held responsible for it.
Otherwise, they would send him out away from the vicinity.
I told them to go ahead and send him away from the community as I don't even want him to work for me again. I can't work with an employee/builder/contractor who lies to me.
Besides, I didn't tell you that this same builder got another job in Bodija that his currently doing but rented a house near my site.
And people say they use to see him go to my site and stay till 11:30 pm before going back to the house he rented.
I believe he might have used the juju to hold my house down till he completes his new work.
He might also have used it to gather spirit to help him do fast work in the current building his doing.
All this is very possible.
Nevertheless, this is what have learned from this recent experience.
Because you saw a past project of a builder that's good doesn't mean you should just hand over all your project to him with the thinking that he would handle your own project well.That isn't true. I should have taken my time before trusting him too much and allowing him to sleep and do many activities on my site.
I should have gotten a recommendation from a close person before giving him the job. Now there is nobody I can report him to as I met him on a site and I collected his number because I liked his job.This actually a bad way to hire people.I believe it might have even been his jazz that made me notice the building he built at Bodija that day.In case you don't know, that same building was featured in the newspaper as he sent it to me on Whatsapp.

The launching of the house the builder built at Bodija.

The launching ceremony.

I need to pay more attention to details and stop openly seeking advice from people who don't have skin in the game. This guy only wanted money and his willingness to get it through any means. I'm sure most of the building advice he gave me wasn't valid has it just so we can spend or pay him more money. Mind you, I just realise that since the day I collected his number in late November 2021, I just couldn't rest until I gave him a job. I tried giving him a soakaway digging job to which he brought some Abiki but he didn't do the work.Later on, I messaged him on WhatsApp on the 9th of December to come and assist with foundation work.
Stop being accessible to people who don't deserve your time.
Another mistake I made with trusting people has to do with a lady I employed at my office in January 2022.
When she came, I gave her:
orientation about her task
all my office keys,
a laptop,
access to the internet,
And I also provide food occasionally – let's say once a day.
I trusted her too much.
Guess what?
She started taking me for granted and started feeling pompous.
That was when I realized I had let my guard loose too soon.
I gave her a lot of things she didn't deserve or earn.
Now she thinks she deserves much more without putting in more work.
Anyways, I have learned my lesson.
As from today, I will start paying more attention to details and be consistent at it.
I will give my trust out like a ladder. People need to earn it step by step.
Even at that, I wouldn't just lose or lower my guard.
I will only give certain privileges to those that have shown that they deserve them based on their work and moral ethics.
I will also ensure I'm always proactive by visiting my site, project, or business regularly or sending someone to do that for me.
I will also ensure I don't look for cheap things or cheap people because nothing good is cheap.
Most of the time, things that are cheap now will give you problems later. And this is not only limited to construction. It does cut across all industries.
Finally, I need to limit my access and availability to people who don't deserve my time.
I hope you have learned something new today.
Feel free to comment with your thoughts below.
Also, share your story if you have had a similar occurrence.
Thank you.