9 Ways To Make Money From Ecommerce In Nigeria In 2020
June 3, 2020
2020-06-03 14:07
9 Ways To Make Money From Ecommerce In Nigeria In 2020
9 Ways To Make Money From Ecommerce In Nigeria In 2020
This is a step by step guide on how Nigerians can make money from e-Commerce in 2020.
Should you want to earn some side income, then this might be the perfect business for you. To start with, I will define the term "e-Commerce".
E-commerce is short for "Electronic Commerce", it simply means any form of commerce(buying and selling) that is done digitally, using the internet. It is also the use of Digital and Online Solutions in the purchase of goods and services.
For instance:
If you buy a product from a seller in Nigeria or abroad without having to leave the comfort of your room or office, that is e-Commerce. If you buy airtime and data or pay for utility bills and services online, that is also e-Commerce.
The Nigerian e-Commerce industry
The e-Commerce sector in Nigeria is currently worth $13 Billion (goods traded yearly), and on a daily basis, over 500,000 online transactions in Nigeria is being processed. According to a research published by McKinsey, the e-Commerce industry is expected to account for 10% of all retail sales in Nigeria which is projected to be $75 Billion by 2025. This is mainly as a result of the rapid increase in the level of internet and mobile penetration in Nigeria.
Why e-Commerce is the future of commerce in Nigeria
The availability of fast internet and cheap smartphones has contributed greatly to the rapid increase of e-Commerce activities in Nigeria; And if I must let you know; this trend won't stop anytime soon.
Another major reason for its adoption is that e-Commerce transaction is seamless. It saves a lot of time as it can be done from the comfort of your room using a mobile device.
Besides, sellers get to make more money because they have a wider customer access range (to more customers across the country) while buyers get to save costs by choosing from a wide range of vendors and better prices.
To make money via e-Commerce in Nigeria, you need to be a seller. You need to sell a product or service online. It doesn't matter whether it is your product or not, but you must sell, and I will explain how to do this below.
9 Ways To Start eCommerce Business in Nigeria.
1. Buy products from China and sell them in Nigeria.
This is one of the most profitable ways to make money from e-Commerce in Nigeria. You simply buy products on Chinese e-Commerce platforms(like AliExpress, Alibaba, and 1688), and you sell at a good profit margin.
A piece of advice here: make sure you buy "Hot Selling" or "Hot in Demand" products that you can easily sell once it gets delivered to Nigeria. This way, you wouldn't tie your money down on products that people will never buy. Go to sites like Facebook and Jiji.ng and observe what people are buying online.
2. Buy used gadgets from the United State(US) and sell them in Nigeria
This is another easy way to start an e-commerce business in Nigeria. You buy neatly used electronic gadgets from the US using classified ads platforms like OfferUp and Letgo. You then sell it here in Nigeria at a good profit margin. I will suggest you buy trending products like neatly used Samsung S10, iPhone 11, and Macbook Pro as there is a readily available market for these products here in Nigeria.
By the way, you will need a trusted agent(in the US) to help you verify the product is original, in good working condition, and also make the payment on your behalf. He would then send the gadget to Nigeria(Lagos to be precise) where you can then pick it up and then sell the gadget here in Nigeria at a good profit margin.
Click here for a detailed article on how to order used gadgets from USA using OfferUp.
3. Buy brand new gadgets from Amazon and sell it in Nigeria
Another profitable e-Commerce business you can start is buying goods on Amazon and selling it here in Nigeria. You see, Amazon is known for the sale of good quality products at affordable prices. Relatively, they are more trusted than other platforms.
You can buy quality laptops that are scarce in Nigeria and make a good profit.
Note that Amazon doesn't ship all products to Nigeria. It's either you buy light products that are been shipped directly to Nigeria or you create a virtual US address on My US.com and ship all the goods you're buying from Amazon via that platform.
Note that not all Amazon product sells in Nigeria, and you've got to consider the cost of custom and the selling price of the product in the market before you order for it.
4. Sell on amazon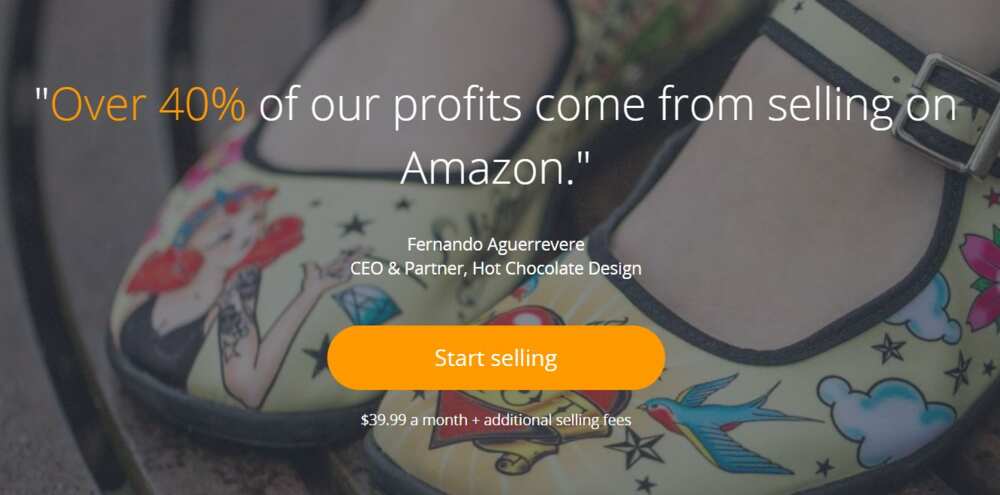 Instead of just buying on amazon to sell in Nigeria, you can also sell your products on the platform. This way you can sell to people across the globe and make more money. Hot-selling products Nigerians can sell on Amazon include hardcover books, PDFs, and other digital goods. This guide on Legit.ng would help you out if you want to start selling on Amazon as a Nigerian.
5. Become an Amazon Affiliate
Aside from buying and selling on Amazon, you can also make cool cash by directing customers to quality products on Amazon. This is best done by reviewing Amazon products on your blog or a Youtube channel and then sharing your affiliate links to your followers so that they can place an order.
You can get between 1% to 10% commission depending on the type of goods purchased. And from experience, luxury goods attract more commission when compared to cheaper goods.
Click here to register as an Amazon Affiliate. You may also use my affiliate link in case you want to place an order on Amazon any time soon. That way, I might earn some commission. Thank you.
6. Sell on Jumia
Jumia is the largest e-Commerce platform in Nigeria, by simply setting up a store on the platform, you would be able to sell to thousands of Nigerians across the country and make cool cash. To get started, you need to register on Jumia Vendor Marketplace, upload your product and then start promoting it online.
Most times, Jumia will handle the delivery of the product across Nigeria. All you need to do is to ensure the product is readily available and drop it off at the nearest Jumia pickup store when you have an active order. Failure to provide goods for delivery within 48 hours of having an order would give your store a negative reputation. So do well to avoid this.
Jumia charges a commission on each product you sell through them. It ranges from 6% to 15.36% depending on the category of the product. You need to consider this when setting your price, otherwise, you may end up without a profit. I'm sure you wouldn't want to just work for Jumia.
7. Become a Jumia Affiliate
As a Jumia Affiliate, you can earn up to 13% on each sale you refer to the platform. The way you make money here is similar to the Amazon Affiliate Program I explained earlier in this article. You need to review some of the products available on Jumia and recommend it to the followers of your blogs and social media accounts. I will recommend you leverage on Youtube and Instagram to promote the products but feel free to try other methods as well.
You can also earn commissions and bonuses by joining the Jumia Force. Here you work as a Jumia sales agent, helping people around you to place orders daily. You can also build a team of sales agents and earn commissions from each member of your team. If you will like to be a sales leader then you should definitely check it out. You can find more details about it below.
8. Sell on Konga
Konga is the second-largest e-commerce platform in Nigeria. It was founded in 2012 and it currently has millions of active monthly buyers. Selling on the platform is quite easy and similar to that of Amazon and Jumia. They claim to charge a lesser commission on the product sold when on their platform thus giving you the opportunity to earn more money. What do you think? Click here to register and start selling on Konga.
9. Become a Konga Affiliate
The Konga affiliate program(also known as YuBoss) allows you to earn commission promoting products that are being sold on Konga. It is similar to the Amazon and Jumia affiliate programs. All you need is to review the products on your Blog or Social Media accounts, and then recommend your followers to purchase it via your affiliate link. You can earn as high as a 10% commission on each sale.
Conclusion
Making money from e-Commerce is not rocket science. All you need to do is either sell products online or refer your friends, families, and followers to this e-Commerce platform and get paid commissions.
The 9 methods I shared above are the easiest ways to make money from e-Commerce in Nigeria but you don't need to limit yourself to them alone. If you have more capital, you may as well create your e-Commerce platform as I did with Filta.ng, or start ordering wholesale products via containers and seaports. They can also be very profitable if you get it right.
Feel free to ask me any questions as regards operating your own e-Commerce business.
You may also drop your suggestions in the comments below.
I will love to hear from you.
Always to your financial success,